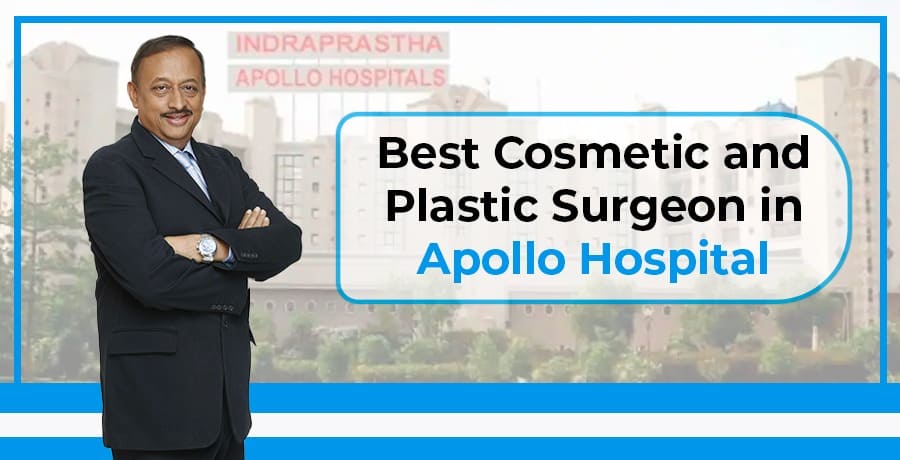 The popularity of Cosmetic and Plastic Surgery in India has markedly surged in recent times. An increasing number of people choose cosmetic procedures to improve their appearance or physical imperfections. When it comes to delicate procedures like this, it is extremely important to select a reputable and experienced surgeon.
This ensures that you receive exceptional care and achieve outstanding results. In this blog, we will explore the world of Cosmetic and Plastic surgery in Apollo Hospital, one of the leading medical institutions renowned for its expertise.
Apollo Hospital in Delhi
Dr. Prathap C. Reddy, known as the architect of contemporary healthcare in India, founded Apollo Hospitals in 1983. Apollo Hospitals, the first corporate hospital in the country, is credited with starting the private healthcare revolution in the nation.
With a strong presence across the healthcare ecosystem, including hospitals, pharmacies, primary care & diagnostic clinics, and multiple retail health models, Apollo Hospitals has established itself as Asia's top integrated healthcare services provider. The Group also operates Telemedicine facilities in several nations, as well as offering health insurance services, consulting for international projects, medical colleges, Medvarsity for online learning, colleges for nursing and hospital administration, and a research foundation.
Apollo Hospital is a renowned leader in the field of Cosmetic and Plastic Surgery. With a strong reputation for delivering exceptional healthcare services, Apollo Hospital offers a wide range of cosmetic and plastic surgery procedures to enhance and refine one's appearance.
A variety of cosmetic operations, including Facelifts, Body Contouring, Breast Augmentations, and Non-Surgical Treatment, are available at Apollo Hospital. You can be sure that you will receive top-notch care thanks to the state-of-the-art facilities and a group of highly qualified surgeons, including the famous Dr. Anup Dhir.
Best Cosmetic and Plastic Surgeon in Delhi
Dr. Anup Dhir has earned a reputation for his exceptional surgical skills and artistic approach to enhancing his patients' natural beauty. He is a Plastic Surgeon who has been certified by a board. He has received thorough training and has obtained qualifications from well-known institutions.
Dr. Anup Dhir's dedication to excellence has been recognized through numerous awards. He has received acclaim for his contributions to the field, including being honored with the prestigious 'Best Plastic Surgeon' award.
Dr. Anup Dhir's commitment to providing personalized care and achieving outstanding results has made him a trusted choice for patients seeking cosmetic surgery in Apollo Hospital.
Dr. Anup Dhir - Services and Specializations
Dr. Anup Dhir provides a wide range of cosmetic procedures that can assist patients in attaining their desired aesthetic objectives. His expertise extends to various facial cosmetic procedures such as Facelifts, Rhinoplasty, and Dimple Surgery.
With a keen eye for detail and a commitment to natural-looking results, Dr. Anup Dhir ensures that his patients emerge feeling confident and rejuvenated. In addition to facial procedures, Dr. Anup Dhir specializes in body contouring surgeries that help sculpt and reshape the body.
He specializes in various cosmetic procedures such as Liposuction, Tummy Tucks, and Body Lifts. By combining his surgical expertise with a deep understanding of each patient's individual requirements, he is able to achieve incredible transformations. Recognizing the importance of beauty, Dr. Dhir also offers Breast Augmentation and enhancement procedures.
Whether patients desire Breast Augmentation, Breast Lift, Breast Reduction, or Reconstructive Surgery, Dr. Anup Dhir works closely with them to understand their goals and deliver outstanding results. For those seeking Non-surgical Treatments, Dr. Anup Dhir provides a range of Cosmetic treatments such as Botox Fillers, and Laser Treatment. These Non-invasive options offer patients the opportunity to enhance their appearance without the need for surgery.
Cutting-edge Technology and Facilities at Apollo Hospital
Apollo Hospital embraces the latest advancements in technology. From traditional surgical techniques to cutting-edge laser procedures, they have it all. The state-of-the-art equipment and facilities ensure that patients receive the best possible care.
Be prepared to be amazed by the range of tools at the disposal of skilled surgeons. Whether its laser technology for precise incisions or advanced imaging systems for accurate assessments, Apollo Hospital spares no expense to provide the highest quality treatments.
Importance of Choosing a Trusted and Experienced Surgeon for Cosmetic Procedures
Choosing the Cosmetic Surgery in Apollo Hospital for the procedure is of utmost importance. A quack with a scalpel can turn your dream makeover into a nightmare. It's crucial to trust your body and face only in the hands of a qualified professional like Dr. Anup Dhir.
If you are thinking about getting cosmetic surgery, you should definitely consider Dr. Anup Dhir. He has a great reputation for delivering outstanding results and has made numerous patients happy. Dr. Anup Dhir is the top surgeon in Delhi who can assist you in reaching your aesthetic objectives.
In conclusion, Apollo Hospital stands as a trusted destination for cosmetic and plastic surgery, offering top-notch services and facilities to ensure the utmost care and satisfaction of their patients.
Dr. Anup Dhir, with his expertise, experience, and numerous awards, emerges as a standout surgeon in Delhi, known for his exceptional skills and dedication to delivering remarkable results.
Whether you are considering Facial Procedures, Body Contouring, Breast Enlargement, or Non-surgical Treatments, Apollo Hospital and Dr. Anup Dhir can provide the expertise and personalized care you deserve.